American cultural studies B 2004
Interview with Aboriginal People in Canada
---

Acknowledgment

First of all, I would like to thank Mr. and Mrs. Sasaki for their enormous supports. I also would like to acknowledge all the aboriginal people in Canada who gave me the chance to interview them about their culture. I want to express my thanks to Seinan Gakuin University for giving me the chance to go to Canada for this research. I could not have done this project without all of their support and cooperation.


---

Introduction

Today, the world has changed to being borderless and we can say that globalization has spread out all over the world. Things, human, money and information can cross any border easily now. Because of this globalization, not only the Japanese people but also people all over the the world are at risk of losing some of their own culture. I strongly believe that we should not lose our own culture. Canada is a multi-cultural nation. However, they are trying very hard to ensure that different ethnic groups retain their culture for the young generation in Canada. Therefore, I decided to conduct research about "How Aboriginal People in Canada Retain Their Culture and Traditions".


---

Research

I spent one month in British Columbia, Canada for one to mainly interview Aboriginal people. I did the research by listening to them about their culture and traditions. Some of the Aboriginal people in Canada live on reserves, so normally it is very difficult to meet these people and hear about them. Fortunately, I could interview 7 Aboriginal people from different nations. It is because Heike Sasaki, who is my very good friend, has a lot of Aboriginal friends. I also interviewed Heike Sasaki about the Aboriginal Program in Langley School District. She was the District Administrator responsible for aboriginal programs before she had retired in July 2003. Heike and her husband Gary took me to one of the Aboriginal reserves called "Katzie First Nation", which is off limits to outsiders, because it is private property. I asked these aboriginal people 21 questions. They allowed me to record their voices. A very famous Aboriginal Carver in Canada whose name is Xwa Lack Tun sang three traditional songs while playing the drum. One of the three songs I was allowed to record. He is well known not only in Canada but also all over the world. When I interviewed them I gave some souvenirs which I brought from Japan. They also gave me a present as exchange. While I was staying in Canada, I went to the UBC Anthropology Museum, Stanley Park and other sites. I saw lots of traditional artifacts from various nations. I will describe these interviews and also add some pictures below.


---

Rosaline (Rose) Heinel

Rose is a member of Ojibway First Nation (Province of Ontario). Ceremonies and their way of life are very unique to the nation. She still can speak her aboriginal language fluently. They have great respect for their elders because the elders are very important teachers in her culture. When people in the nation have mental, spiritual or emotional issues, they go to the medicine people and become healthy again. Medicine people are recognized from their young age because they follow the spiritual path. Women have played important roles for a long time. They teach their children to pass their culture on to them. They are the best teacher in their community. Bead work is unique artwork in her nation. They use a lot of colors in their art work. Women do these bead work and they used to do basket weaving. Ojibway people used to carve totem poles and canoes but it is now a lost. art It is because the trees have been cut down and the environment has changed over the years. Nevertheless, they still eat wild rice which is their special food. They kill animals in the traditional way to make regalia. They wear regalia when they have ceremonies or when they dance during special occasions. They mostly wear buck skin regalia. Sometimes, women wear cotton regalia. They have a lot of sacred places. Their sacred places are caves in lakes. Ojibway Fisrt Nation has the bear clan. The eagle is a sacred animal for them because they fly highest in the sky towards the creator. Rose says that she thinks there isn't any difference between the present time and ancient time. There is no difference in the point that rituals and traditions are still in their community. However, the environment around them is changing. These changes influenced their life and culture. Rose thinks support from the government is never enough. The treaty was provided for them a long time ago and it is now gradually being taken away. She insists that the provision in a treaty shouldn't be taken away. People in Ojibway First Nation have been fighting for their rights for a long time.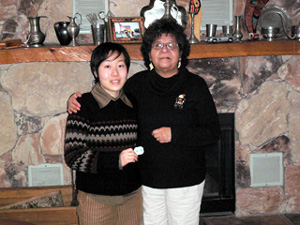 On the right hand side is Rose.
| | |
| --- | --- |
| Rose's bead work 1 | Rose's bead work 2 |
Xwa Lack Tun

Xwa Lack Tun is a member of Squamish First Nation. Squamish people are Coast Salish people. They are known for being spiritual people. Their culture and traditions have almost been lost because of smallpox and other diseases. However, some of the major true stories came through so that they know who they are. Retaining their culture and traditions are very important because it gives them their roots. Medicine people in his community are old people. Medicine people are just somebody listening and somebody allowed picking up good medicine. Potlatch in his community used to last two weeks a long time ago. Today, people live on a time schedule so they have to juggle these things with other things around and sometimes ceremonies and rituals are cut shorter. They don't have art work in the community because everything was made for purposes or reasons. Everything was hung up on a wall. They still carve canoes and totem poles. He is a famous carver in Canada. He is passing the skill not only to his children but also children in his community and many people outside of his community. He is now teaching at schools. His community has been influenced by Christianity like other communities. However, he thinks they are more focusing on their own spirituality. They look at everything like people and show them respect. Salmon, crabs, clams, deer meat and sea weed are special foods for Coast Salish people. They wear button blanket as their regalia. The button blanket is very sacred to them because they go up to the mountain to make it. They look at the land as sacred so the land is a sacred place for them. Therefore, they respect nature and animals. He can even communicate with animals. They think that the ancestors left some messages behind for them. He thinks he wants to leave something behind, too. He says that culture brings people together and politics separate them. He looks more at culture and education. He is going to deal with culture and teach young people their own culture so that they can pass it on to young people.




Xwa Lack Tun
His art work
at Emily Carr in Vancouver


Una-Ann

Una-Ann is member of Tahltan Nation. However, she didn't know her culture well until she was an adult. It is because her mother had to go to a residential school. Her mother had a disease so she had to be put in a hospital and taken away from the community. Therefore, her mother couldn't learn well about her culture and couldn't pass it on to her children. Ann realized that she did not know about her culture so she read books and was taught about her culture from her mother and other elders at a later age. She doesn't speak her aboriginal language. She thinks it is very important to know one's own aboriginal language because it gives you pride and real connection to one's people. So she wants to learn it. In her nation, medicine people use traditional herbs and plants for healing. She has had the opportunity to live up north from time to time. She still does fishing in the traditional way so her children can learn their culture in their daily life. She teaches her children art, craft, bead work and drawing. She also teaches at schools In the Langley School District. She and people in her community are trying to pass their culture and traditions to young members although some of their cultures and traditions have changed because of modernization. Tahltan First Nation has a very large territory. Today, the chief has signed an agreement with the government for 12 mines to go into the territory and three hydro dams to go into their territories. Most of their territories have not been touched by civilization. Ann and people in her community are worrying if it will affect animals, people and the land.


| | |
| --- | --- |
| With her button blanket | With her Buck Skin Dress |
Susan and Cary Miller

Susan and Cary Miller are members of Katzie First Nation. They live on the reserve. I was allowed to visit to there because Heike Sasaki who is my host family is a friend of Susan and Cary. They live beside the Fraser River. Their back ground is Coast Salish people. As part of the Coast Salish people they were the Longhouse people. All of their families lived in a big Longhouse together a long time ago. They are also Smokehouse people which means they are spirit dancers. When people are taken into the Smokehouse, they connect with the Indian spirit from the spirit world so they are like starting life all over again. When a pregnant woman goes to the Smokehouse she has to wear a blanket because she has to protect her unborn baby. If you don't protect it they will bring another spirit of someone who was not born and put them in danger. Not all people can get their Indian name in their community. Some people who have an ability to heal can get their Indian name. When you have got an Indian name, it is something you have to live up to the rest of your life. If you don't honor it, they'll take it away. Susan wasn't raised in her community. She was raised by Dutch people until she was 19 years old so she had to come back and learn her culture and tradition at her later age. Susan told me that we have to be careful when we talk to people in her community. People in her community don't like using eye contact. When we talk to people, we see people's eyes and it is what we learned. It is very different from our culture. Elders are very important in their community too. Nothing in their community happened without the elders. However, they are not very listened to though they still show respect to elders. As you know, medicine people are very important in communities of First Nations. It was the same in Katzie First Nation. Nevertheless, there is a belief that only modern medicine can heal people in the community now. Katzie people make cedar bracelets and they also carve. They use cedar tree to make these things. They also have special regalia for ceremonies. They make regalia using cedar and wool. Susan and Cary think funding from the government is not enough to finish. All their projects. They fight how the money should be spent in their community. Part of the treaty process is that they become self-sufficient but they don't believe that they can do it.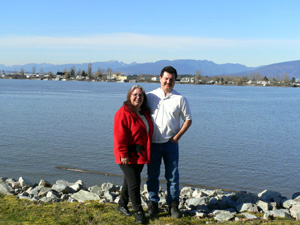 Susan and Cary Miller
| | |
| --- | --- |
| Art works of Katzie First Nation | Mask |

Philip Gladue

Philip is a member of Metis Nation. Metis culture came from two different cultures. Metis culture is a mixed culture of the First Nation culture and the European culture (French culture). Their aboriginal language is called Michif. The language is mixed from five language groups, which are the Cree, the Saulteaux, the Ojibway, the French and the English. Philip grew up with his culture. He can speak Cree very well. They are now losing their language but they are trying to get the language back. In most of Metis families, women came from the First Nations background. They had inherited their knowledge from their ancestors. Women are recognized as medicine people because they play a big role and they are keeping their families together. Philip says that they are retaining their aboriginal culture because that is what Canada was made of. They retain their culture through their elders. Their community has an oral history and their language was not written. When they have a feast, they always have water, soup made out of wild animals, bannock which is bread and tea. Metis culture has a lot of bead work. As Metis culture is a mixed culture, their bead work is mixed art of First Nations art and European art. Philip thinks that the government is doing pretty good right now but it is up to the community to be able to put that together to establish some kind of agreement with the government. People in Metis culture are working hard through education, hunting, harvesting to retain their rights.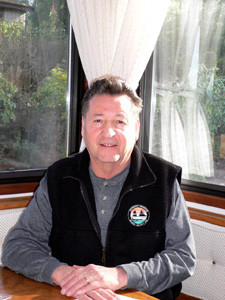 Philip Gladue






Judy Dallin

Judy is married to a member of Metis Nation. . Her husband is an Ojibway Metis so she talked me on behalf of her husband and her two sons. Celebrations and music are unique to the Metis culture. Two instruments come out to balance the two cultures. There is also dance which comes as a combination of two cultures. It is called Jigging. Any Metis celebrations that you go to, will have music and Jigging. Metis culture has flower bead work. It is the coming together of the European and First Nation cultures. They also have another art work called Sash. Sash is finger woven and really the article of clothing that identifies a person as a Metis. They have also special regalia. Their coat is combination of the European style and the First Nation style. Some coats are made out of leather which would be more traditional to the first nations. These things would be cut into the same nation style made out of leather rather than cotton. Metis people are now bringing their culture back to schools so all Canadians will come to know more about the Metis culture. As one of the three recognized aboriginal cultures, she thinks the Metis are the least known of all. People are starting to understand who the Metis people are. Metis people are thinking that there has to be more opportunity for people to learn because people have the willingness to learn, there just has to be more opportunity to learn the language to learn the culture. Supports from the government have just come for the Metis people right now. Now, the First Nations people are identified with a status card in Canada. In the very near future, she believes there will be a Metis national card and people will be recognized and along with that they will define the population. There is great injustice as to the amount of funding that the government provides with regard to first nations people as opposed to Metis people. The Metis people for a very very long time really did not receive any support. There has not been a balance to what has been provided by the country for the First Nations people.


| | |
| --- | --- |
| Judy Dallin | Flower bead work |

Jennie Heyes

Jennies Heyes is a member of Kitimeot Inuit Nation. She is now living in a city, but she used to live up north and lived in Igloos and tents there. People in her community did not buy food at a grocery store. They did not have television, no radio and no running water. All their clothes and beds were made of skins. However, everything is of convenience now. They even have cell phones. Jennie says her children have to survive in the city and if she teaches them how to survive in the Arctic, it won't work. Actually, even people in the Arctic now live in houses and work in offices. The old way became almost none-existent. The Elders role now has gone down today. Growing up the elders roles was to teach you how to survive without the help from other people. They are slowly bringing back the wisdom of the elders, because there is a lot of alcoholism and drug addiction. As I said before, they used to live in Igloos and they traditionally were moving all the time so they didn't have art work on the walls. Inuit people carve soapstone now because a man came to the Eastern Arctic long time ago and he realized that many of Inuit people could not work in offices. Women had equal rights as men. More women have more ambitions than men do in her community so women work in offices and schools. Other First Nation communities have their own sacred places. Inuit community also has sacred places but not all people in the community know where they are. It is also believed that everything around them was sacred. They even think snow and plants are very sacred. Therefore, they respect nature. She says if you respect nature, nature will respect you. The Inuit Nation is getting funds from the government like other First Nations. She thinks that the money provided by the government only lasts for a short time and they don't teach Inuit people the knowledge how to generate new money. She says Inuit people really believe in independence so you have to seek that yourself.


| | |
| --- | --- |
| Jennie Heyes | Inuit arts |

Heike Sasaki

Heike Sasaki used to work for the Langley School District as a District Administrator. She retired in July 2003. She taught me how the School District started the Aboriginal Program in the Langley Schools. They started it in 1990. First of all, they surveyed the number of Aboriginal students in the area. 330 families declared their aboriginal background on behalf of their children. The Ministry of Education of B.C. provides to the school district $1100 per child which they is used to offer academic and cultural assistance to their Aboriginal students. They also created an Aboriginal Advisory Committee. As a Committee, they decided by consensus that they would also offer all Langley students to gain cultural awareness of Aboriginal culture and history. In addition, they provided workshops for teachers, administrators and interested parents. These programs are very successful and have instilled a great deal of pride in their aboriginal families. Each year more families come forward to identify their aboriginal background. In 2005 almost 1400 students are identified as having aboriginal background which is a direct result of the successful programs provided by the staff of the Aboriginal Department.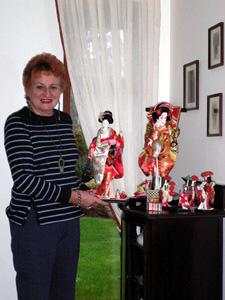 Heike Sasaki
---

UBC Anthropology Museum

I went to the UBC Anthropology Museum. The Museum was larger than I expected. There were large selections of various art works of Aboriginal cultures.


---

Stanley Park

I've been to Canada a few times before yet I had never been there before. There were a lot of totem poles in the Park. Each totem pole was different in size and shape. Also, each of them has a different meaning.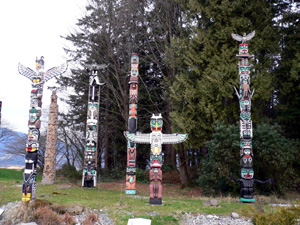 The shortest one in center is
Thunderbird House Post
---

Camp McLean

I visited Camp McLean in Langley, B.C. to see two totem poles. One of the totem poles was carved by Xwa Lack Tun who is a very famous carver in not only Canada but also in many countries. The other was carved by Corey Bulpitt who is alsoa a famous carver in Canada. He was born in the Queen Charlotte Island on the northwest Coast and raised in Langley. He is a member of the Haida First Nation and carved the Haida Pole.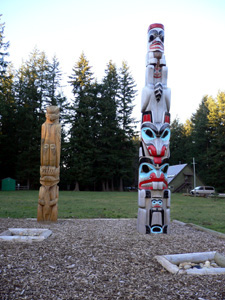 Totem Poles
---

Conclusion

I met a number of Aboriginal people in Canada. I learned so many things from them through interview. It is very important to give something as a present when you meet somebody for the first time and ask them about their culture. I brought some Japanese presents from my home town and I gave them to the Aboriginal people who allowed me to interview them.They also gave me a present as exchange. Some aboriginal people live on reserve. It is very difficult to meet them and hear about their culture directly. I was very lucky that I could meet them and interview them. I found some common things between different First Nations. In some point, they have a very similar culture and Traditions. When it comes to Inuit culture, some of their culture and traditions are so different from others because they live way up north. Aboriginal people respect nature and they are trying not to lose their traditional way of life. Since they started to work in schools teaching their culture and Traditions at schools, people are gaining more understanding about their culture. Aboriginal people also started to be proud of their aboriginal culture. At last, I think retaining our own culture is very important for us. We should learn how to retain cultures from them to leave our culture behind in the future.


---