Four-Week Intensive Japanese Language Program Session 2016
June 27- July 28, 2016
Since it was established in 1973, the International Division at Seinan Gakuin University has offered one-semester or one-year study abroad programs concentrating on Japanese language and culture. Offering all courses except Japanese language in English has earned us high marks from students for the quality of program content. The completion of the new international student residence, the I-House, in 2004 has allowed us to offer Japanese language education experiences for more international students. The four-week Summer Intensive Japanese Program accepts up to 40 students each year at four different levels I-IV (Refresher(beginning II), Pre-intermediate, Intermediate, and Advanced) of classes. Lecturers are all highly experienced in Japanese language education, both in our year-long exchange programs and at other universities both here and abroad. The incoming students are from partner and non-partner institutions from around the world, making for a richly international learning environment in which to experience many other cultures and to learn more about the world, in and through the Japanese language.
Credit Transfer

The four-week program offers students a unique opportunity to experience Japan and the Japanese language without the need for an extended stay, and all the while earning two to four semester credits (US) to apply toward graduation at students' home universities.
Syllabus
- Class I: Refresher (Beginning II)
- Class II: Pre-Intermediate
- Class III: Intermediate
- Class IV: Advanced

Course Content
- Four different levels I-IV (Refresher(beginning II), Pre-intermediate, Intermediate, and Advanced) of classes with 12 or fewer students

- Four-week intensive language instructions, exams, workshops, language lab activities, and on- and off-campus field work.

- Field trips to local shrines, temples and other local attractions.

- A two-day study trip to Kumamoto to visit the Kumamoto-castle , Suizenji-park, Mount Aso and local sights of historical interest



Sample Schedule : Summer Program 2015 [PDF:284KB]

Intensive Japanese both in the Classroom and Out
We have included in a lot of activities for classes doing things which you can only experience in Japan. For example, simpler tasks for refresher(beginning II) level students might be just to go to some shop and find out if they have a particular item and, if so, how much it costs. More advanced students might be interviewing Japanese students, or searching around for local landmarks. The aim in all of this, of course, is to give students an opportunity to experience the pleasure not only of communication in Japanese, but of actually accomplishing something. From both these will grow both confidence and competence in the Japanese language. This makes the language more than just a classroom subject; it makes it a part of the students life experience. It is meant to be a lot of fun, even if it may seem trying at times.


Cultural Exchange

Welcome Party
Off-Campus Excursion
TANABATA Festival
Japanese Home Visit
HAKAMA Fitting Activity
HAKATA YAMAKASA Festival
Kumamoto Trip (2DAYS)
Calligraphy
Flower Arrangement
Tea Ceremony
Conversation with
Seinan Students
Inter-exchange at I-House

Student Services
Accommodations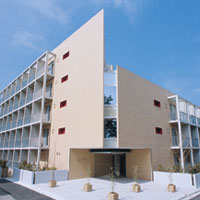 Participants will stay in the residence for international students, the I-House, opened in February 2004. This facility projects a hotel-like, modern-style design with clean kitchens on every floor and lounges where you can comfortably relax. Students will stay in one of the 55 single rooms, each equipped with air conditioner, bed, desk, chair, refrigerator, toilet, and sink with hot and cold water. There are shared kitchens, shower rooms, and washing/drier machines available. All necessary equipment for living is available at the I-House, ensuring a comfortable stay during the program. Besides other international students, some Japanese students live there and are always very helpful as international students adjust to life in Fukuoka. Everyone is happy to share meals and eat foods from many different countries. It offers a relaxed environment for both study and intercultural exchange.
Meals
There are shared kitchens in the dormitory, so participants can cook themselves. Just under ten minutes on foot, they will be able to buy groceries at the Nishijin or Fujisaki shopping Street. There are also many restaurants, pubs, and grocers in these areas offering a wide range of cuisines from many countries. Students can also have meals at two on-campus cafeterias at reasonable prices.
Resources
Participants will have access to the library, the language laboratory, and also internet resources through the Seinan Academic Information Network System (SAINS) for free. Passwords for internet access will be issued during orientation. For students who wish to access the system from the I-House using their own computers, there is an Internet connection available at each room. You need only to submit the application form for using your own computer through SAINS. It is required that your computer has a valid anti-virus software installed.

Welcome Services
Greet and pickup service (Fukuoka Airport, Hakata station or Hakata pier pickup) is available by Seinan Gakuin University students, and they will take you to the I-House. Additional information on points of local interests and local area maps will be provided upon arrival.


| | |
| --- | --- |
| "Adobe Reader" is necessary to see the PDF file. Please download and see Adobe Reader with the button of right "Get Adobe Reader". | |